March 17th, 2009 Categories: Chester County, Home Buyers, Home Sellers, Market Trends
Downingtown Homes Real Estate Market Report For 19335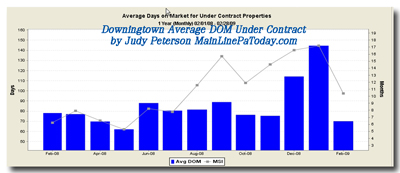 How long has this home been on the market? That's a question every Chester County Main Line Pa home buyer likes to ask.
Days On The Market for Downingtown homes and real estate:
Good news for Downingtown home sellers  is that DOM has actually dropped -10% from 78 Days On Market to 70 Days On Market for Downingtown 19335 homes under contract.
A nice St Patricks Day good luck sign for the Downingtown Spring real estate market.
The Downingtown Real Estate Months Supply of Inventory, MSI (represented by the broken line in our graph) is up +67% from 6.2 MSI in February of 2008 to 10.4 MSI in February of 2009. However the direction is down from a peak in November/December 2008 as you can see in this graph of the Average Days On The Market for Downingtown homes Under Contract.
Comparing Downingtown homes for sale, Downingtown Pa homes under contract, Downingtown Pa homes sold information to February of 2008 shows a healthy real estate market – Downingtown Homes Median Under Contract Prices up +8%.
The actual Downingtown Homes Sold Price comparison between February of 2009 to February of 2008 remained level but the increase in the Under Contract Price indicates a good upward swing for the Downingtown homes real estate market.
Downingtown Homes For Sale Contact or call Judy Peterson, 610.889.5509 Prudential Fox and Roach Realtors for you own custom list of Downingtown Homes For Sale or request a Market Analysis for your Downingtown Home to determine a competitive selling price for your Downingtown home.
Downingtown Homes Median Home Prices,Homes For Sale, Homes Under Contract and Homes Sold Prices:
| | | | |
| --- | --- | --- | --- |
| Downingtown Homes Status | Downingtown %Change | Downingtown Feb 2008 | Downingtown Feb 2009 |
| For Sale | +5% | $342,450 | $359,900 |
| Under Cont. | +8% | $309,900 | $334,450 |
| Sold | 0% | $280,588 | $281,000 |
| Expired | -14% | $384,950 | $330,000 |
Downingtown Homes Supply and Demand Statistics:
The Downingtown Real Estate Market Supply and Demand comparison between February 2009 and February 2008 shows the typical drop in volume of real estate transactions for Downingtown 19335 area as is the case for other Chester County Pa real estate markets.
| | | | |
| --- | --- | --- | --- |
| Downingtown Homes Status | Downingtown % Change | Downingtown Feb 2008 | Downingtown Feb 2009 |
| For Sale | -14% | 458 | 394 |
| Under Cont. | -43% | 56 | 32 |
| Sold | -59% | 34 | 14 |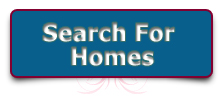 Back To Top