June 30th, 2009 categories: Chester County, Financial, Market Trends
Tredyffrin Township, Chester County Pa Real Estate Market Snapshot May 2009
Real Estate Market Snapshot Table For Tredyffrin Township comparing the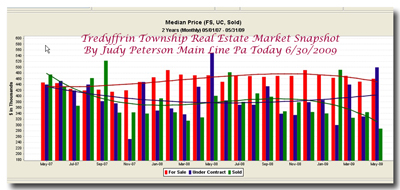 Number of Homes For Sale in Tredyffrin, Homes Under Contract, Homes Sold, New Listings that came on the market, the Residual Inventory (homes already in the market place or "backlog"), the Median For Sale Price for Tredyffrin and the Median Under Contract and Median Sold Price for Tredyffrin Township for this three year period beginning in May 2007.
The Tredyffrin Real Estate activity chart I prepared below may help you see the Read the rest of this entry »
Spoken by Judy Peterson | Discussion: Comments Off on Tredyffrin Homes For Sale May 2009 Market Snapshot
---
June 27th, 2009 categories: A Realtors Life, Fun Things To Do, Lifestyle
6 Tasty Tips+8 Tempting Apps For Real Estate iPhone Love
My Apple iPhone 3GS adventure actually began more than a few years ago with a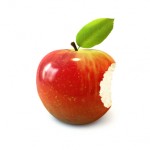 couple of Palm Pilots. I thought they were great until now!
Even though I'm an Apple newbie, I already love my  iPhone3Gs. The new iPhone was a Birthday present.
The launch date fell exactly 30 days after my real birthday, so I was counting the days along with the rest of the world and just barely resisted the temptation to stand in line in the predawn hours at the Apple Store in the King of Prussia Mall on June 19th.
Spoken by Judy Peterson | Discussion: Comments Off on 6 Tips For Real Estate iPhone Love
---
June 26th, 2009 categories: Chester County, Delaware County, Fun Things To Do, Lifestyle, Montgomery County
July 4th 2009 Fireworks, Parades and Fun in the Chester County Main Line Pa Area
The 4th of July is the traditional start of Summer,  in Philadelphia and the Western Suburbs of Chester County, Montgomery County and Delaware County.
There will be many back yard picnics a few parades and some spectacular Fireworks displays for you to enjoy. I'll be taking my best ever "secret recipe" deviled eggs to a party. Actually, I just make them the way my Mother did with a little pinch of this and that (except for the hot sauce and curry). But they really are the best ever!
Everyone likes to call their Fireworks the best ever. What do you think? Do you have a family fav?
*Philly 4th Fun, Fireworks and Parade – Philadelphia offers a week long celebration beginning June 25th with The July 4th Parade taking place this year in Historic Philadelphia starting at 11am.  Fireworks can be viewed from the steps of the Philadelphia Museum of Art on the Benjamin Franklin Parkway starting at 10:30pm
*Wilson Farm Park 4th Annual Tredyffrin/Easttown Concert and Fireworks Display at 500 Lee Road in Chesterbrook,  features Ben Mauger's Vintage Jazz Band in a FREE concert starting at 7pm with a grand finale Fireworks Display about dusk, or 9pm.
*Radnor High School Annual Scholarship Fund Fireworks held at the Radnor High School playing fields at King of Prussia Road starting at 6:30pm on July 4th.  July 5th Rain Date. Call 610-688-5600 for more information and advance tickets, group car rates. Bring a picnic blanket or chair. Read the rest of this entry »
Spoken by Judy Peterson | Discussion: Comments Off on July 4th 2009 Fireworks Chester County Main Line Pa
---
June 4th, 2009 categories: Chester County, Featured Listings, Home Buyers, Open House
Sunday Open House 6/7/ and 6/14/2009 2-4pm Parkerhill Lane in Chester Springs Pa
You're invited to our Open House, Sunday 6/7 and 6/14/2009 from 2-4pm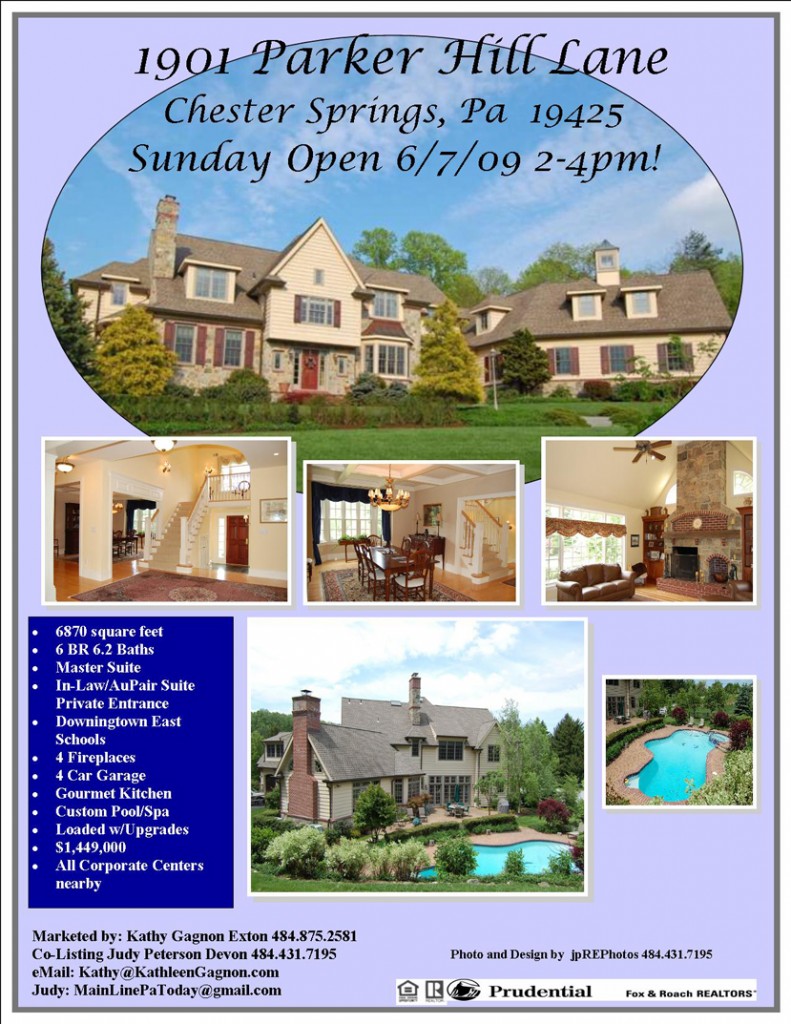 Come visit the first Sunday Open House on June 7th and Sunday June 14th, 2009 from 2-4pm to preview this spectacular Custom Designed Home.  Experience the joy of the true Chester County Main Line Pa lifestyle in this convenient Chester Springs location. Bask in the superior quality amenities of a custom, unique architectural style home featuring dramatic yet cozy and livable spaces that will meet all of your family's needs. Popular Downingtown East Public Schools PLUS access to sought after private schools such as the Kimberton Waldorf School and The Montgomery School. Popular Downingtown Pa, Chester Springs, Kimberton Shopping or zip into Wayne and Paoli for some favorite shops.
Highlights: First Floor Master Bedroom Suite, 6 Bedrooms, 6.2 Baths, In-Law Suite with private entrance, 4 car garage, custom pool/spa, 9ft and 10ft ceilings, palladium windows, chester county stone raised hearth fireplace and much, much more!
Directions: Route 202 to 401 West, right on Route 113, left on Horseshoe Trail, right on Parkerhill.
Spoken by Judy Peterson | Discussion: Comments Off on 1901 Parker Hill Lane Chester Springs Sunday Open
---
Back To Top