August 27th, 2009 categories: Chester County, Delaware County, Financial, Home Sellers, Montgomery County
Home Owners "Green" Tax Benefits Offer Savings Ideas Tucked Away in The First Time Home Buyers American Recovery and Reinvestment Act of 2009

You all know about the $8,000 First Time Home Buyer tax credit that's chasing down the November 30th 2009 deadline, right?

But did you know that the American Recovery and Reinvestment Act of 2009 has a nice little tax benefit and some bright ideas for current home owners if you improve your home's energy efficiency on items like skylights (who has a skylight that doesn't need improving?) doors, windows, and some metal and asphalt roofs. Could be as much as 30% of the cost of the project up to $1,500.

And the "green" tax credit also covers installation costs for HVAC and gas, oil and propane water heaters through December 31, 2010. Read the rest of this entry »
Spoken by Judy Peterson | Discussion: Comments Off on Home Owners Green Tax Incentives
---
August 24th, 2009 categories: Chester County, Financial, Market Trends
Chester County Real Estate Market Activity-July 31, 2009*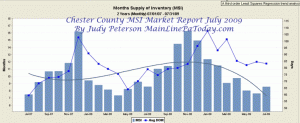 Our July 2009 Real Estate Market Statistical Report compares the Chester County Real Estate Market Activity for July 2007 to July 2009 for Chester County Homes Sold, Chester County Homes For Sale, Median Sold, Chester County Median For Sale and Median Under Contract Real Estate Pricing.
The National Association of Realtors® reports in the NAR National Existing Home Sales Report, that for the first time in 5 years, existing home sales have increased 4 months in a row as of 8/21/09.  I'm looking forward to the Market Reports for August since my intuitive impression is that the Real Estate Market in our area is alive and kickin' again. I'm hearing more and more properties selling in record time and some even with multiple offers, especially when "priced right" and in awesome condition!
The Market Dynamics show that all Median Price indicators are down for this period: Median Sold Prices Down 2% from $310,500 to $305,000 In July 2009, Chester County Homes For Sale down 3% from $374,950 to $365,000 and Chester County Homes Under Contract down 15% from $335,000 to $285,000 in July 2009.
It's interesting to note that Median Prices were up slightly in June of 2009, but not maintained for July 2009 Read the rest of this entry »
Spoken by Judy Peterson | Discussion: Comments Off on Chester County Real Estate July Market Report
---
August 14th, 2009 categories: Chester County, Home Sellers, Open House
766 Hedges Lane Sunday Open House 11/8/2009 2-4pm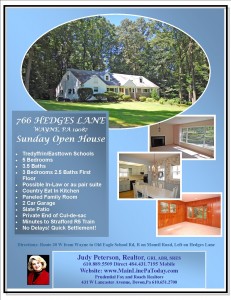 766 Hedges Lane in Wayne Tredyffrin Township, PA 19087. This a wonderful neighborhood, quiet cul-de-sac location just minutes to the R5  Strafford Train with easy access to Philadelphia, all major corporate centers such as Great Valley, King of Prussia and Chesterbrook.
766 Hedges Lane is a very spacious home featuring 5 bedrooms, 3.5 baths and a first floor Master Bedroom Suite. There are 3 bedrooms plus 2.5 baths on the first floor providing the potential for either an in-law or au pair suite. A formal dining room and formal living room with fireplace and picture window views to a large slate stone patio plus a paneled family room comprises the overall generous square footage. Read the rest of this entry »
Spoken by Judy Peterson | Discussion: Comments Off on 766 Hedges Ln Wayne Pa Sunday Open House
---
August 10th, 2009 categories: Chester County, Chesterbrook, Financial, Market Trends
First Time Condo Home Buyers/Investors Find Good Choices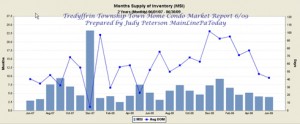 Town Homes and Condos offer some good choices for First Time Home Buyers, Seniors downsizing and Investors because of the attractive lifestyle. The Community of Chesterbrook in Wayne 19087 Tredyffrin Township PA is one of Chester County's most popular Town home and Condo locations. Read the rest of this entry »
Spoken by Judy Peterson | Discussion: Comments Off on Chesterbrook TownHome Tredyffrin Market Update
---
Back To Top