November 18th, 2011 categories: Chester County, Fun Things To Do, Lifestyle
Holiday Fun Things To Do-Main Line Chester County PA 
Gingerbread House Fun at The Easttown Library – Tuesday and Wednesday, November 29th and November 30th 4:15pm – 5:15pm-Pre-registration is $10.00 a person.
The Willow's Mansion Antique Gift and Craft Extravaganza 11/18/201 – December 4, 2011- 490 Darby Paoli Road, Villanova – Mon to Fri 10am to 7pm, Saturday 10am to 6pm and Sun 10am to 6pm -Holiday Crafts and Gifts will be featured in addition to an Art Gallery and collectibles. Admission is $3.00 484-582-1166
Wayne Christmas Tree Lighting Ceremony – Friday, December 2nd – 5:30 to 7:30pm, with face painting, carriage rides and tree lighting at the Wayne Train Station
Wayne Santa Parade, Saturday, December 3rd 10am – Parade begins at the Wayne Acme and Ends at the Wayne Hotel – visit with Santa on the front porch of the Wayne Hotel until 11:30am. Read the rest of this entry »
Spoken by Judy Peterson | Discussion: Comments Off on Fun Things To Do December 2011 – Part 1
---
November 17th, 2011 categories: Chester County, Fun Things To Do, Lifestyle
The Kimberton Waldorf School 35th Annual Juried Craft Show
Friday, December 2, 2011 and Saturday December 3rd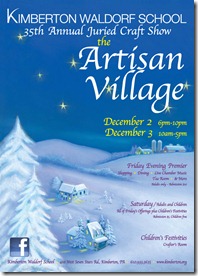 The Kimberton Waldorf School presents the 35th Annual Juried Craft Show beginning December 2, 2011 from 6pm–10pm, Adults Only and Saturday December 3rd from 10am-5pm for Adults and Children. Friday December 2nd, there will be fine dining in the Tea Room, Live Music and more! 
 Over 70 Fine Artisans will be presenting textiles, Jewelry, Pottery, Woodwork, Metalwork, Gourmet Foods and Handmade Toys.
 When: Friday, December 2nd 6-10pm Adults Only, $10 Admission and Saturday December 3rd, 10am–5pm, Adult Admission $5, Children Free. Special Children's Festivities on Saturday feature a Crafters Room and more!
Spoken by Judy Peterson | Discussion: Comments Off on Kimberton Waldorf School 35th Annual Craft Show
---
Back To Top