March 19th, 2009 categories: A Realtors Life, Chesterbrook, Fun Things To Do, Home Buyers
Rita's Water Ice – A Realtor's And A Home Buyer's Oasis
Home buyers in Chester County from Rita's Water Ice in Chesterbrook, Tredyffrin to Paoli to Frazer or Exton, Downingtown or West Chester sometimes need to take a break from our house hunting work, so I often keep an eye out for Ritas Water Ice.
FREE Rita's Water Ice on the First Day of Spring, Friday March 20th 2009:
An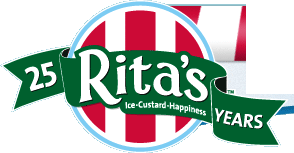 annual tradition that you won't want to miss. From 12 Noon to 10pm Rita's Water Ice will offer FREE Water Ice to help us celebrate the First Day of Spring. Find a participating Rita's Water Ice near you just by entering your zip code. Rita's has 500 locations in 17 states. Some locations offer catering for parties (join the Birthday Club) and corporate events.
Rita's Water Ice is a favorite treat of the little people in my family as well as my clients. Read the rest of this entry »
Spoken by Judy Peterson | Discussion: Comments Off on First Day Of Spring Free At Ritas Water Ice
---
Back To Top