November 17th, 2011 categories: Chester County, Fun Things To Do, Lifestyle
The Kimberton Waldorf School 35th Annual Juried Craft Show
Friday, December 2, 2011 and Saturday December 3rd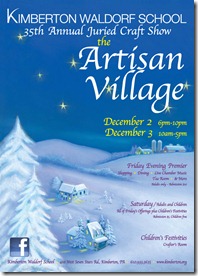 The Kimberton Waldorf School presents the 35th Annual Juried Craft Show beginning December 2, 2011 from 6pm–10pm, Adults Only and Saturday December 3rd from 10am-5pm for Adults and Children. Friday December 2nd, there will be fine dining in the Tea Room, Live Music and more! 
 Over 70 Fine Artisans will be presenting textiles, Jewelry, Pottery, Woodwork, Metalwork, Gourmet Foods and Handmade Toys.
 When: Friday, December 2nd 6-10pm Adults Only, $10 Admission and Saturday December 3rd, 10am–5pm, Adult Admission $5, Children Free. Special Children's Festivities on Saturday feature a Crafters Room and more!
Spoken by Judy Peterson | Discussion: Comments Off on Kimberton Waldorf School 35th Annual Craft Show
---
Back To Top