June 12th, 2008 Categories: Chester County, Market Trends
Market Trends May 2008 ~ Months Supply of Inventory*
The Months Supply of Inventory (MSI), Tredyffrin Township, comparison from May 2006 to May 2008 shows a drop in the number of days on the market beginning in January 2008 and an overall MSI of 7.5 Months. This is a significant increase over May of 2007 at 3.0 months. However, May of 2007 was very low and as we now know, not sustainable. If you take a look at the Average Days On The market for sold properties in the period, you can see that while there are many choices for Buyers, homes that are well priced, in good condition and desirable locations are selling in a reasonable number of days.
Buyers Market? Sellers Market? ~
The Months Supply of Inventory is calculated by first determining the Absorption Rate. These two indicators are used to determine the answer to the Buyers Market-Sellers Market question. This is a picture of a Moderate Buyers Market where there are good opportunities for qualified Buyers and for Sellers.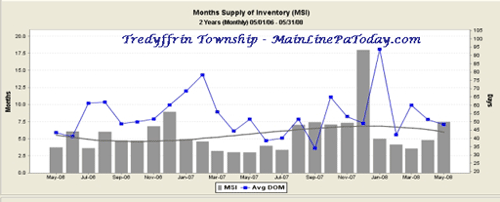 *Data courtesy of Trend MLS and Terradatum is deemed accurate but not guaranteed.
Months Supply of Inventory in Tredyffrin:
May of 2006 MSI was 3.7 months,
May 2007 MSI was 3.0 months
May of 2008, MSI was 7.5 months
Homes For Sale In Tredyffrin for May 2008:
313 homes for sale in Tredyffrin
33 homes under contract in Tredyffrin
34 homes Sold in Tredyffrin (settled).
The average Days On Market in Tredyffrin May 2008:
May 2006 43 Days On Market for Tredyffrin home sales
May 2007 52 Days On Market for Tredyffrin home sales
May 2008 48 Days On market for Tredyffrin home sales
The blue line represents the Days On Market. The December/January spike is really a typical holiday seasonal spike and what I think of as the "consumer confidence" crises spike.
What's my homes value? I can provide a dynamic Comparative Market Analysis, CMA for your property. What's the Absorption Rate indicator for MY property? Call me anytime, 610-889-5509 or eMail me. I'm never too busy for your real estate questions.
Related Post: How To Calculate The Absorption Rate?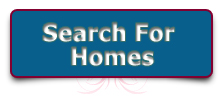 Back To Top