August 22nd, 2008 Categories: Chester County, Market Trends
Malvern Chester County Pa ~ Days On Market Increases 132%*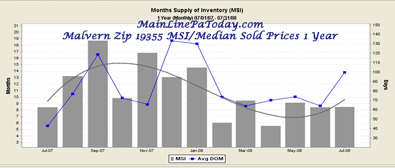 The Malvern Pennsylvania Real Estate Market Report for the period of July 2007 to July 2008 is a story of a growing number of days on the market (DOM) from 43 Days on Market to 100 DOM in July of 2008, a 132% increase in the Days On Market.
The Median Sold Price was down 15% from $465,750 in July of 2007 to $395,000 in July of 2008
The Months Supply of Inventory was up 1% from 8.4 Months to 8.5 Months in July of 2008. The Number of Units was up only 3% from 235 in July of 2007 to 243 in July of 2008, as is shown by the grey bars in the chart with the dotted blue line representing Days On Market. The Number of Sold Units was up 13% from 31 Sold Units in 2007 to 35 Sold Units in 2008
The Median Under Contract price was down 7% from $545,000 to $505,900., while the Median New List On Market was down 23% from $524,900 in July of 2007 to $402,000 in July of 2008.
*All data courtesy of Trend MLS and Terradatum deemed accurate but not guaranteed.
Contact or call Judy 610-889-5509 to chat about Malvern Real Estate or to talk about your real estate questions for your neighborhood.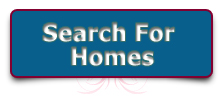 Back To Top