November 5th, 2008 Categories: Chester County, Market Trends
Malvern Real Estate Market Report Zip Code 19355 as of October 2008*
Comparing the real estate market of October 2008 to October 2006 through the key indicators of the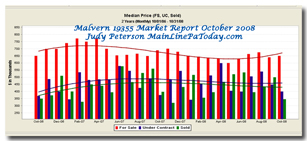 in real estate values for Malvern shows that the Under Contract Price has increased 8%. This appears to be a good and positive direction indicating more realistic "For Sale Pricing" and hopefully some increased demand.
The real story in Malvern and most of our local markets, at this time, is in the volume of transactions. The overall volume of homes under contract is down 48%
Traditional Fall Slow Down In Volume
Traditionally, we see a bit of a slow down in the market in the Fall as far as the Days On Market is concerned.
The Months Supply of Inventory was 9.2 months in October 2006 compared to 14 Months Supply of Inventory in October 208, a 53% increase
Comparing the Months Supply of Inventory, MSI for October 2008 to October 2006, we see an increase of 41% in the Days On Market and and increase in the Months Supply of Inventory of 53% for this period.
Malvern 19355 Median For Sale, Median Under Contract, Median Sold Prices
Median For Sale Price in October 2006 $650,000 and $649,000 in October of 2008
Median Under Contract Price in October 2006 $369,000 and $399,900 in October 2008 and increase of 8%
Median Sold Prices in October 2006 were $350,000 with a 1% decline in October 2008 to $346,000 another good indicator for Malvern.
Days on Market has increased from 61 DOM in 2006 to 85 DOM in October 2008 – a 41% Increase but still down from the high point of December 2007.
The story for Malvern Real Estate in the 19355 zip code is in the change in volume of transactions with 23 homes under contract in October 2006 and 12 homes under contract in 2008 a drop of 48% in volume.
The number of new listings has dropped 15% in comparison to the time periods of 54 new listings in October 2006 and 46 new listings in 2008.
The Residual Inventory (backlog) has dropped 23% from 163 homes in October 2006 to 125 homes in October 2008, a positive indicator.
*Data courtesy of Trend MLS and Terradatum is deemed accurate but not guaranteed.
Contact or Call 610-889-5509 with all your Real Estate Questions or when you need to have your own custom Market Report for your neighborhood. I'm here to help you.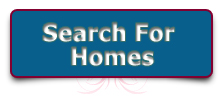 Back To Top