December 9th, 2008 Categories: Chester County, Market Trends
Schuylkill Township Chester County Pa Market Report November 2006 Vs 2008*
The Real Estate Market Report for Schuylkill Township in Chester County Pa comparison between November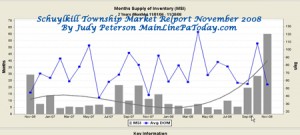 2006 and November 2008 shows two of the three  Supply and Demand indicators for Schuylkill Township dropping. The number of homes for sale, Months Supply of Inventory, is up 103% from 29.5 months to 60 months of inventory.
Keep in mind that these numbers for transactions are statistically small. Nevertheless, this looks like the picture of a real estate marketplace waiting for some official good news and a very strong Buyers Market. A good opportunity for those who are qualified and ready. If the median "for sale price" moderated a little more, the Inventory build up would likely start to move.
Schuylkill Township Real Estate Supply and Demand:
The number of homes for sale is up 2% from 65 homes for sale in Schuylkill Township to 66 homes for sale in November 2008.
The Number of Homes Under Contract is down 50% from 2 to 1.
The Number of Sold Homes in Schuylkill Township is down 78% from 9 homes sold in November 2006 to 2 homes sold in November 2008.
Months Supply of Inventory – Increase in the Months Supply of Inventory is up 103% from 29.5 months supply of inventory in Schuylkill Township to 60 months supply of inventory in November 2008 when added to the Residual Inventory (backlog).
The Days On The Market is up 24% from 44 days on market in November 2006 to a still not unreasonable 55 days on market in November 2008
Median Sold Prices for Schuylkill Township show a positive trend.
Under Contract Price, up 20% from $354,950 to $424,900.
The Median Sold Price is also positive and up 6% from $392,000 to $415,000.
The Expired Listing Price has dropped 28% from $579,900 to $419,000 in November 2008 which is a good indicator of prices moderating to the market conditions.
The median For Sale Price in Schuylkill Township has dropped 10% from $575,000 to $518,000 in November 2008, a positive indicator.
*Data courtesy of Trend MLS and Terradatum is deemed accurate but not guaranteed.

eMail or call, 610-889-5509, Judy Peterson, Realtor Prudential Fox and Roach Realtors with ALL of your real estate questions. Buyers, ask me about getting preapproved and find out if you're qualified and ready to take advantage of some good investment and home buying opportunities. No charge, no obligation to talk.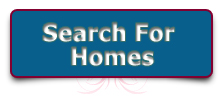 Back To Top