June 30th, 2009 Categories: Chester County, Financial, Market Trends
Tredyffrin Township, Chester County Pa Real Estate Market Snapshot May 2009
Real Estate Market Snapshot Table For Tredyffrin Township comparing the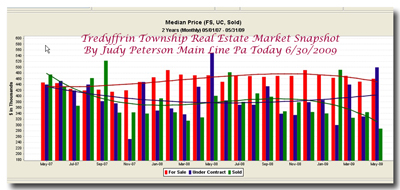 Number of Homes For Sale in Tredyffrin, Homes Under Contract, Homes Sold, New Listings that came on the market, the Residual Inventory (homes already in the market place or "backlog"), the Median For Sale Price for Tredyffrin and the Median Under Contract and Median Sold Price for Tredyffrin Township for this three year period beginning in May 2007.
The Tredyffrin Real Estate activity chart I prepared below may help you see the market activity across this three year period while the Real Estate Market Dynamics Graph above illustrates the effects of this market on the Median Price History for the period and illustrating the segment of the market with the greatest home sale activity.
Keep in mind that market activity trails by at least 30 days, since the average time between a sale and settlement is between 30 and 60 days.  Look for my  Second Quarter Real Estate Market Statistics coming in the 2nd week of July.
383 Homes Sold in Tredyffrin Township in the last 12 Months!
Ready to buy a home in Tredyffrin or the Chester County Main Line Pa area? You need my expert Real Estate Pricing Analysis before you buy a new home or sell your current home. I can help! Don't pay too much or sell for too little! Call Judy Peterson 610-889-5509 voice mail or 484-431-7195 mobile, for answers to ALL of your real estate questions
Main Line Pa Today Real Estate Market Snapshot
For Tredyffrin Township By Judy Peterson 6/29/09*
*Tredyffrin Township

Percent
Change

May 2007

May 2008

May 2009

Tredyffrin
Homes
For Sale

+2%

274

302

279

Under Contract

-63%

60

41

22

Tredyffrin Homes Sold

-46%

48

37

26

MSI

234%

3.1

5.6

10.4

DOM

+42%

52

35

73

New Listings

-29%

90

93

64

Residual Inventory

+47%

116

148

170

Tredyffrin Median For Sale Price

+4%

$447,000

$471,950

$463,000

Median
Under Contract

+14%

$440,000

$549,000

$499,450

Tredyffrin Median Sold Price

-39%

$474,750

$401,000

$287,500
*All Data Courtesy of TRend MLS and Terradatum is deemed accurate but not guaranteed and subject to errors and omissions.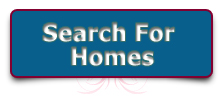 Back To Top