August 24th, 2009 Categories: Chester County, Financial, Market Trends
Chester County Real Estate Market Activity-July 31, 2009*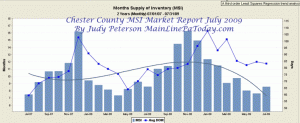 Our July 2009 Real Estate Market Statistical Report compares the Chester County Real Estate Market Activity for July 2007 to July 2009 for Chester County Homes Sold, Chester County Homes For Sale, Median Sold, Chester County Median For Sale and Median Under Contract Real Estate Pricing.
The National Association of Realtors® reports in the NAR National Existing Home Sales Report, that for the first time in 5 years, existing home sales have increased 4 months in a row as of 8/21/09.  I'm looking forward to the Market Reports for August since my intuitive impression is that the Real Estate Market in our area is alive and kickin' again. I'm hearing more and more properties selling in record time and some even with multiple offers, especially when "priced right" and in awesome condition!
The Market Dynamics show that all Median Price indicators are down for this period: Median Sold Prices Down 2% from $310,500 to $305,000 In July 2009, Chester County Homes For Sale down 3% from $374,950 to $365,000 and Chester County Homes Under Contract down 15% from $335,000 to $285,000 in July 2009.
It's interesting to note that Median Prices were up slightly in June of 2009, but not maintained for July 2009
Supply and Demand, (number of units) were down for the period with Number of Sold Units down 14% from 581 units to 497 units, Number of Chester County Homes Under Contract down 11% from 511 units to 454 units in July of 2009.The Number of Homes For Sale is down 1% from 4,852 homes for sale in Chester County to 4,788 homes for sale in July of 2009.
The Chester County Months Supply of Inventory (Days On Market) continues to be a significant indicator. The Months Supply of Inventory throughout Chester County Real Estate Inventory is up from 7.5 MSI to 8.6 MSI in July 2009. The Days On Market has increased from 60 DOM to 83 DOM in July of 2009.
This is a significant improvement downward from January of 2009 but still a real estate market factor that continues to describe a Buyers Real Market. A neutral Market is loosely defined as one in which the Months Supply of Inventory hovers between 5 Months and Six Months of Inventory. We're definitely headed in a healthier real estate market direction compared to the 11.5 Months Supply of Inventory back in November of 2007.
The final Basic Absorption factor is Residual Inventory which is up 5% from 3,045 to 3,191 Residual Inventory Homes For Sale in July 2009 and New Listings which is down from 931 New Listings in Chester County to  814 New Listings in July of 2009.
Contact or Call 610-889-5509 Judy Peterson, Realtor Prudential Fox and Roach Devon Home Marketing Center to find out more about your neighborhood real estate market.

*All data courtesy of Trend MLS and Terradatum is deemed accurate but not guaranteed.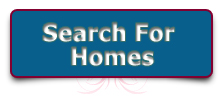 Back To Top