June 26th, 2009 categories: Chester County, Delaware County, Fun Things To Do, Lifestyle, Montgomery County
July 4th 2009 Fireworks, Parades and Fun in the Chester County Main Line Pa Area
The 4th of July is the traditional start of Summer,  in Philadelphia and the Western Suburbs of Chester County, Montgomery County and Delaware County.
There will be many back yard picnics a few parades and some spectacular Fireworks displays for you to enjoy. I'll be taking my best ever "secret recipe" deviled eggs to a party. Actually, I just make them the way my Mother did with a little pinch of this and that (except for the hot sauce and curry). But they really are the best ever!
Everyone likes to call their Fireworks the best ever. What do you think? Do you have a family fav?
*Philly 4th Fun, Fireworks and Parade – Philadelphia offers a week long celebration beginning June 25th with The July 4th Parade taking place this year in Historic Philadelphia starting at 11am.  Fireworks can be viewed from the steps of the Philadelphia Museum of Art on the Benjamin Franklin Parkway starting at 10:30pm
*Wilson Farm Park 4th Annual Tredyffrin/Easttown Concert and Fireworks Display at 500 Lee Road in Chesterbrook,  features Ben Mauger's Vintage Jazz Band in a FREE concert starting at 7pm with a grand finale Fireworks Display about dusk, or 9pm.
*Radnor High School Annual Scholarship Fund Fireworks held at the Radnor High School playing fields at King of Prussia Road starting at 6:30pm on July 4th.  July 5th Rain Date. Call 610-688-5600 for more information and advance tickets, group car rates. Bring a picnic blanket or chair. Read the rest of this entry »
Spoken by Judy Peterson | Discussion: Comments Off on July 4th 2009 Fireworks Chester County Main Line Pa
---
June 27th, 2008 categories: Chester County, Fun Things To Do, Lifestyle
July 4th 2008 Holiday – Family Fun Things To Do

The 4th of July falls on a Friday this year. What could be better than a long weekend with time for Family Fun Things To Do. Try berry picking or maybe pick some veggies at a local orchard, but be sure to call ahead to see which crops are coming in. Linvilla Orchards is having a Blueberry Pie Eating Contest July 5th.  Everyone has a good time with miniature golf or a trip to the zoo.  There are two good skating rinks in the area and if you're up for a day trip, amusement parks are fun for everyone.  Tell us your favorite local family fun place! Read the rest of this entry »
Spoken by Judy Peterson | Discussion: Comments Off on 4th of July 2008 Fun To Do|Main Line Chester County Pa
---
June 11th, 2008 categories: Chester County, Delaware County, Fun Things To Do, Lifestyle
July 4th 2008 – Fireworks Philadelphia Main Line Chester County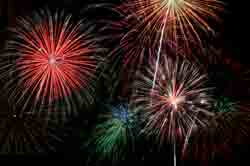 The July 4th three day weekend provides some excellent choices to see fireworks on The Philadelphia Main Line and Chester County Western Suburbs. After the hamburgers, hot dogs, lemonade, deviled eggs and potato salad have been eaten, plan to take in a neighborhood fireworks display.
In The City of Philadelphia last year, three million visitors enjoyed the week long Annual July 4th "America's Birthday" party sponsored by Sunoco. Read the rest of this entry »
Spoken by Judy Peterson | Discussion: Comments Off on 4th of July 2008 – Main Line Chester County Fireworks Display
---
Back To Top