October 2nd, 2009 categories: Chester County, Financial, Home Buyers, Home Sellers, Market Trends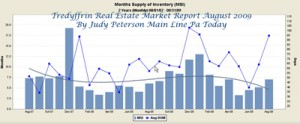 There are no shortage of opinions about our current real estate market. Just about everyone has become a real estate prognosticator.
I will say that I've never seen anything quite like this market in my 18 years as a Realtor.  More than usual, the Buyers and Sellers appear to be marching to the beat of a different drummer. This is apparent in the disconnect between the August increase in the Median For Sale Price and the drop in the Median Sold Price and Under Contract Price.
From the 5% median For Sale price increase of $439,900 over the August 2007 Median For Sale Price of $419,500 to the 6% Median Sold price drop ($435,000) in August 2009 as compared to August 2007 Median Sold Price ($462,450), it appears that, at least here in Tredyffrin Township, Buyers and Sellers perceive the market direction very differently. Read the rest of this entry »
Spoken by Judy Peterson | Discussion: Comments Off on Tredyffrin Real Estate August 2009 Report
---
Back To Top