August 19th, 2008 categories: A Realtors Life, Home Buyers
Is That Really You? Are You Really Judy Peterson, the Realtor®?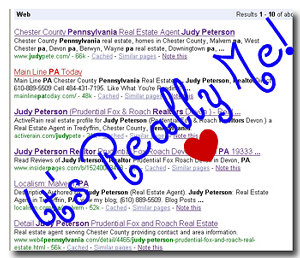 Recently, I received two calls that started out with, the question, Is that really you? The first one came late in the day while I was preparing for a Sunday Open House for one of my listings.
"Is that you?"
Yes, it's me! How can I help you?
"Is that really you?" "Are You really Judy Peterson the Real Estate Agent? I'm on your website right now. It's very good".

Yes, It's really me. That's great! What can I do for you.
"You answer your own phone?" Yes, I sure do.  Are you a team? I have a "Prudential Team" Read the rest of this entry »
Spoken by Judy Peterson | Discussion: No Comments »
---
Back To Top