July 3rd, 2008 categories: Chester County, Market Trends
Tredyffrin-Easttown Township Real Estate – Median Sold Price, Average Days On Market, 2nd Quarter 2008 Market Report*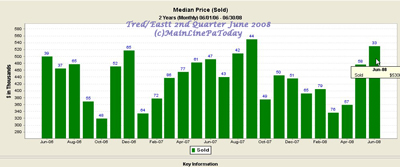 Tredyffrin-Easttown Township Pennsylvania 2nd Quarter Two Year Comparison Market Report shows a market that is moving forward in a healthy direction. There are many geographic areas that would gladly trade places with Tredyffrin-Easttown's 2nd Quarter Market Snapshot.
Excellent showing condition, careful pricing and superb marketing should bring some good news for Tredyffrin Easttown Buyers and Sellers. This past June, 31 Read the rest of this entry »
Spoken by Judy Peterson | Discussion: Comments Off on Tredyffrin-Easttown Real Estate – 2nd Quarter Market Snapshot
---
April 26th, 2008 categories: Delaware County, Market Trends
Delaware County PA Average Sold Price Comparison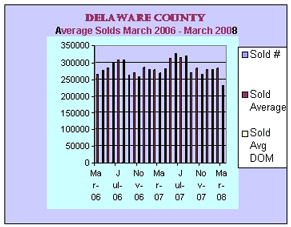 A comparison of The Average Real Estate Sold Price for a Home in Delaware County, Pa between March of 2006 and March of 2008 shows a 12.76% decline. In March of 2006 the average sold price wss $263,833 while the average sold price in March of 2008 was $230,167 for Delaware County.
Average Sold Price/Median Sold Price/Average Days On The Market:
March 2006 Average Sold Price – $263,833/Average Days On Market – 55

March 2007 Average sold Price – $268,228/Average Days On Market – 68

March 2008 Average Sold Price – $230,167/Average Days On Market – 78
Data Courtesy of Trend MLS and Terradatum, presumed accurate but not guaranteed.
Spoken by Judy Peterson | Discussion: Comments Off on Delaware County, PA Average Sold Price March 2008
---
Back To Top