August 9th, 2011 categories: Chester County, Expired Listings Help, Home Sellers, Real Estate Photography
Keeping The Right Stuff!
It was Shakespeare who said, "All the worlds a stage…", a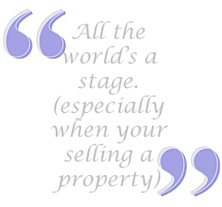 pretty good metaphor for real estate in this market. Setting the stage, lights camera action- it should all be done before the curtain goes up. A good Professional Home Stager,  is worth their weight in gold.
The ASP, Association of Staging Professionals reports on the top 12 Home Improvements for Sellers as shown in a national Home Gain Survey including the potential return on investment.
3  Home Staging Mistakes To Avoid:
Not Having a Plan – As a Realtor,  I offer staging tips to my Seller in a Pre-listing Consultation, but a Professional Staging Plan includes a written evaluation, and estimates within your budget. Please, always have a contract with any sub-contractors for your protection. Read the rest of this entry »
Spoken by Judy Peterson | Discussion: Comments Off on 3 Home Staging Mistakes To Avoid
---
Back To Top