August 9th, 2011 categories: Chester County, Expired Listings Help, Home Sellers, Real Estate Photography
Keeping The Right Stuff!
It was Shakespeare who said, "All the worlds a stage…", a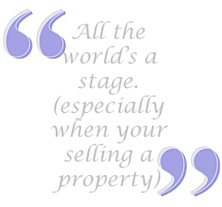 pretty good metaphor for real estate in this market. Setting the stage, lights camera action- it should all be done before the curtain goes up. A good Professional Home Stager,  is worth their weight in gold.
The ASP, Association of Staging Professionals reports on the top 12 Home Improvements for Sellers as shown in a national Home Gain Survey including the potential return on investment.
3  Home Staging Mistakes To Avoid:
Not Having a Plan – As a Realtor,  I offer staging tips to my Seller in a Pre-listing Consultation, but a Professional Staging Plan includes a written evaluation, and estimates within your budget. Please, always have a contract with any sub-contractors for your protection. Read the rest of this entry »
Spoken by Judy Peterson | Discussion: No Comments »
---
July 29th, 2011 categories: Chester County, Chesterbrook, Financial, Market Trends
Good To Be A Tredyffrin Townhouse Buyer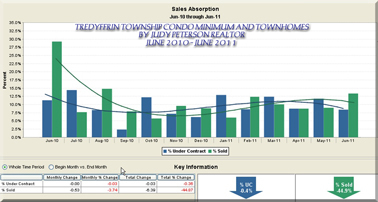 If you are a Townhouse or a Condo Buyer or Seller in Tredyffrin Township you will have seen the most real estate activity in all of Chester County Pa in the past 12 months. There were 354 units sold in Tredyffrin, followed by 195 sold in Phoenixville, 188 in East Goshen Township and 186 in West Goshen Township. Inventory is moving, however Sold prices for townhouses and condos are down 4% since June of 2010.* Read the rest of this entry »
Spoken by Judy Peterson | Discussion: No Comments »
---
July 26th, 2011 categories: A Realtors Life, Chester County, Fun Things To Do, Home Buyers, Home Sellers
Scrabble and Real Estate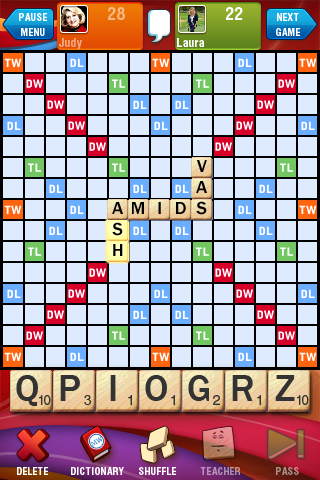 Perhaps you love to play Scrabble AND you have a penchant for the world of real estate like me. As a child I spent many happy Summer days playing marathon games of Monopoly with family and friends. And even today, a few running games of Scrabble on my iPhone helps keep the mental juices flowing. Now I would be the first person to acknowledge that I cringe whenever I hear someone refer to the "game of real estate". Somehow it always makes me think of those sleazy get rich quick guys on late night TV.
We never want to think about buying or selling a home as a game, since it's one of the most important financial and emotional events in our lives. But here are some similarities to both events that might give a little insight by way of comparison:
Spoken by Judy Peterson | Discussion: No Comments »
---
January 14th, 2009 categories: Financial, Home Buyers, Home Sellers
Home Improvement Chester County Philadelphia Main Line Area
The phrase that "All Real Estate Is Local" contains a lot of truth in Real Estate and especially for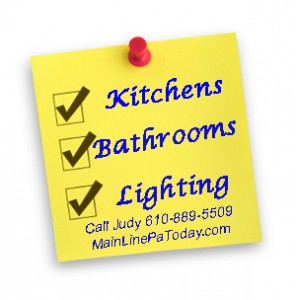 our Pennsylvania, Chester County Real Estate and Philadelphia Main Line area. We have a varied mix of home styles and home price ranges sometimes within neighborhoods.
Each year Realtor Magazine together with Remodeling Magazine* publishes their Cost vs Value edition with statistics on resale value investment return. These are Regional differences but It's also true that Chester County may differ from Delaware or Montgomery County or style differences between Single Family Homes or Town Homes.
Good Lighting Deserves More Home Improvement Attention
My clients seem to be most impressed with Kitchens and Bathrooms and often comment on Lighting. Lighting isn't on the list but in my experience it should be. When a home buyer says, "It seems dark in here", it's not good news for the Sellers home I'm showing. Especially here in the Northeast. Good lighting can punch up the WOW factor for a modest investment!
Spoken by Judy Peterson | Discussion: No Comments »
---
January 10th, 2009 categories: A Realtors Life, Home Sellers, Market Trends
Home Sellers Ask "Paint The Town Red or Broker Beige?"
The Spring Real Estate Market for
Chester County and the Philadelphia Main Line Pennsylvania area is just around the corner.
Maybe we did paint the town red for New Years Eve. But that's yesterday's news. Time to move on and put 2008 behind us. I love color for the home I live in, but for the property you're selling-not so much!
Aren't These Yummy Colors? Don't even think about it! Think neutral. Think Broker Beige.
Try some of the fun interactive tools like Lowe's Home Improvement for ideas and my free 10% Discount Gift Coupon below. There are many exciting neutral colors to choose from.  When you're getting ready to list your home for sale, the Read the rest of this entry »
Spoken by Judy Peterson | Discussion: No Comments »
---
October 30th, 2008 categories: A Realtors Life, Lifestyle
Daylight Saving Time – November 2, 2008 Set Your Clocks Back Saturday November 1st Before Bedtime.
Fall Back from Daylight Saving Time on Sunday November 2, 2008.
After the sugar highs of Halloween, you like me, may be in high gear Saturday, November 1st and forget to turn your clock back one hour.
If you do forget, you might even show up for Church an hour early. Which is only slightly less embarrassing than if you forget in the Spring and walk in when everyone else is leaving.
"i before e, except after c", and if you're musical, "EGBDF, every good boy does fine" and "face" (the lines and spaces of the Treble Clef), or to loosen or tighten screws, "lefty loosey, righty tighty" are some of the ways we jog our memory into action with these mnemonics.
If you like fun words, that's what these are called. Mnemonics are supposed to make things easier to remember, but the word mnemonics is not easy to remember. When I can remember the word, I can't remember how to spell it. Read the rest of this entry »
Spoken by Judy Peterson | Discussion: No Comments »
---
October 16th, 2008 categories: Expired Listings Help, Home Sellers
Expired, Unsold Real Estate Listings Can Be Revived With The Right Plan "IF"
Just because a real estate listing is expired, unsold or withdrawn from the market,  doesn't mean that the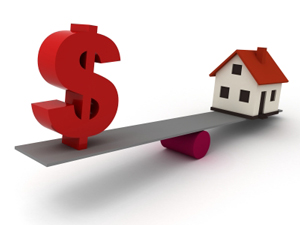 real estate sale is dead and gone forever.  Far from it.
We can revive Expired, Withdrawn, Unsold Listings with the Right Marketing Plan which includes the right listing price.
Often what's needed is a new, fresh approach. Because if you keep doing the same thing you've always done, you will get the same results you've always gotten.
Effective Real Estate Marketing has changed dramatically in a short period of time. And like all rapid changes, some  learn new skills and keep up with the changes and some do not.
First, the Realtor® is responsible for preparing the Comparative Market analysis, CMA to help Seller decide on the best Listing Price. Second, the Realtor® is responsible for the design and implementation of Read the rest of this entry »
Spoken by Judy Peterson | Discussion: No Comments »
---
October 13th, 2008 categories: Expired Listings Help, Home Sellers
Where's The Real Estate Party With The "Sold" Presents?
Having a real estate listing expire it's listing contract without being sold is a little like giving a party with no food, music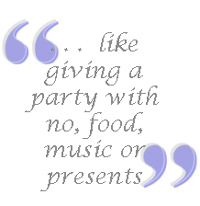 or presents.  Inviting all of your friends to come and celebrate with you but then telling them to come back later for the real fun.
Everyone arrives at the party with great anticipation of enjoying the company of the guests, good conversation, food and music only to have the host announce, "please come back next month when we will have the "real party" with the decorations, the food, drinks, dancing and presents!
Would you go back?  Probably not. But it happens every day in my real estate market of the Chester County Pennsylvania Main Line area when listings expire without selling.  And it's mostly avoidable.
A listing that expires it's listing contract unsold is an enormously painful event for both the Seller and the Listing Agent. The number of expired listings is growing. So what can be done? Read the rest of this entry »
Spoken by Judy Peterson | Discussion: No Comments »
---
September 14th, 2008 categories: Chester County, Home Sellers
Real Estate Home Marketing Plan ~ Blue Print For Success
Does Every House For Sale Need A Real Estate Marketing Plan?
Yes. Every house for sale needs a Real Estate Home Marketing Plan.  A Realtors® Home
Marketing Plan is like a home building blue print – a plan for success. Your blue print for success should include extensive internet marketing with lots of photos. The National Association of Realtors®, NAR has found that more than 80% of today's Internet savvy buyers begin their home search online. Statistics have shown that properties with photos get the most viewings. The evidence is clear, Buyers want to see property photos.
As a Pennsylvania Realtor® for more than 16 years, I know that every property needs to have a Real Estate Home Marketing Plan, custom designed to take into consideration the unique needs of the Sellers and of the Sellers unique property features. Every Seller deserves to have their property showcased to it's best advantage.
A Marketing Plan establishes the blue print for accomplishing the Sellers objective to sell their property for the highest price in the least amount of time to the best qualified buyer who will go to settlement as promised.
In Real Estate, A Picture is worth many $1,000.00's of Dollars –
It's still true that a "picture is worth a thousand words".  But, in today's real estate market, especially, Read the rest of this entry »
Spoken by Judy Peterson | Discussion: No Comments »
---
September 8th, 2008 categories: Chester County, Chesterbrook, Home Sellers
How Much Is My Chesterbrook Pa House Worth?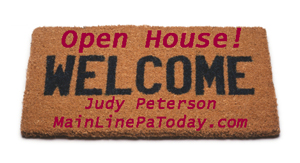 A visitor to my Real Estate Sunday Open House in the  Chesterbrook town home, condo community recently asked me a form of the question, How much is my house worth?
We spent some valuable time talking about house values in Chesterbrook and the real estate market in general.  Most of us need to sell a property before we can buy new one.
The question of How much is my house worth is a cornerstone question of the move-up or downsizing buyer's plan to find a home that best fits their needs today.  Read the rest of this entry »
Spoken by Judy Peterson | Discussion: No Comments »
---
Back To Top