August 20th, 2008 Categories: Chester County, Market Trends
Tredyffrin Easttown Township Chester County Pa House Sold Prices
This is a Pretty Picture For Tredyffrin Easttown Houses Sold!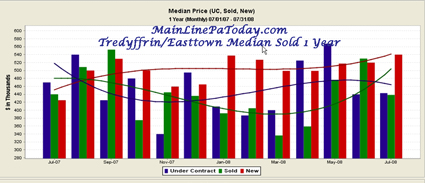 The total number of homes that have sold in Tredyffrin Township and Easttown Township in Chester County Pa is an impressive 569 homes sold for the 12 month period of July 2007 to July 2008; 432 homes sold in Tredyffrin Township and 137 homes sold in Easttown Township in this 12 month period of July 2007 through July 2008*.
The Under Contract Median Sale Price for this 12 month comparison in Tredyffrin Easttown is Down 6%, from $469,900 July 2007 to $443,000 in July 2008.
But the Median Sold Price Differential between July 2007 and July 2008 is only down .3% $440,000 in July 2007 and $438,500 in July 2008.
The Months Supply of Inventory is up 18% from July of 2007 at 3.9 MSI to July 2008 4.6 MSI but the Months Supply of Inventory has dropped from June of 2008 at 5.2 MSI to 4.6 MSI in July of 2008.
We'll be watching the Median For Sale Price for new listings which is up 27% from July 2007 at $425,000. to July 2008 at $539,900.
I know, "one swallow does not a Summer make" but I'm just sayin. This is a pretty picture! Come back again. We'll bring you another Market Update for Tredyffrin Easttown Home Sales.
*All data courtesy of Trend MLS and Terradatum deemed accurate but not guaranteed.
Main Line Pa Today Home Search
Related Articles:
Contact Call Judy Peterson 610-889-5509. I can help you when you're ready to buy a new home or you need the best Real Estate Agent to market and list your Main Line Pa Chester County home for sale.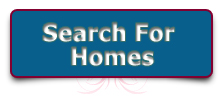 Back To Top