January 8th, 2009 Categories: Chester County, Market Trends
Tredyffrin Township Real Estate 4th Quarter Market Report
440 Homes Sold In Tredyffrin Township, Chester County Pa In 2008. Our one year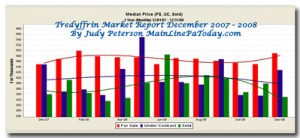 comparison between December 2008 and December 2007 shows that the Median For Sale Price is up 9%, while the Median Sold Price for a home in Tredyffrin Township is down only 3%.*The key for the statistics is Green equals median sold prices, red median for sale prices and blue, median under contract prices.

And while it's a good sign that the residual inventory (back log) is dropping, there's a message in the For Sale Price increase and the Median Sold price Decline. Remember, it's just a short 30 days til the Spring Market and more competition.
Tredyffrin Months Supply of Inventory Drops Dramatically:
The real story for Tredyffrin is in the Months Supply of Inventory comparison between December 2007 and December 2008. The Months Supply of Inventory for December 2007 was a whopping 20.1 months but December 2008 shows a much healthier 11.6 Months Supply of Inventory.

However the Days On Market have increased from 49 DOM to 103 DOM. In part, this is our Typical Winter post holiday slump that's reflected by the increase in the Days On Market.
New Listings and Homes For Sale Needed:
Those of us working with Buyers who want to live in Tredyffrin, are keenly aware that the Tredyffrin homes for sale inventory needs an infusion of new listings that are priced right and in good condition.
The homes still on the market need a new fresh approach to get ready for the Spring Market. Sellers thinking of getting off the fence? I have some great ideas to help you get your home sold.
Tredyffrin Homes For Sale Median Price-up 9% from $449,450 to $489,900 in 2008
Tredyffrin Homes Sold, Median Price-down 3% from $339,500 to $330,000 in 2008
Expired Listing Median Price up 45% from $344,900 in 2007 to $498,450 in 2008
Tredyffrin Real Estate Supply and Demand-Homes For Sale, Homes Under Contract, Homes Sold and Expired Listings:
Tredyffrin Number of Homes For Sale–dropped 9% from 216 to 197 in 2008
Tredyffrin Homes Under Contract-up 56% from 9 to 14 in December 2008
Tredyffrin Homes Sold–down 15% from 26 in 2007 to 22 in December 2008
Expired Listings in Tredyffrin–down 23% from 26 in 2007 to 20 in 2008
Tredyffrin Months Supply of Inventory and Absorption Rate:
Tredyffrin Months Supply of Inventory drops from 20.1 MSI to 11.6 MSI in 2008
Tredyffrin Days On Market is up from 49 DOM to 103 DOM in 2008
Residual Inventory For Tredyffrin is down 12% from 163 to 143 in December 2008.
*Data courtesy of Trend MLS and Terradatum is deemed accurate but not guaranteed.

EMail or Call 610-889-5509, Judy Peterson, Realtor Prudential Fox and Roach Realtors Devon Home Marketing Center with ALL your real estate questions. Ask for my "450 Ideas For Sellers To Get Your Home Sold" or my "PreListing Custom Walk Through Service" for Sellers to help you get ready to be sold, even in a tough market. Sorry, it's the law, only available to Home Sellers not already listed for sale.
Related Articles of Interest:
Chester County Real Estate Market Report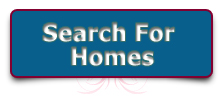 Back To Top