February 8th, 2009 Categories: Chester County, Market Trends
Our Real Estate Pa Market Report update for Chester County Homes in the Downingtown, 19335 Zip Code area.  This is a comparison of the Downingtown Median For Sale Price, Median Sold Price and Median Under Contract Price between January 2008 and January 2009.*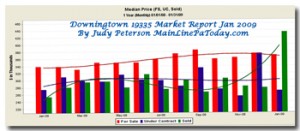 Downingtown Median For Sale Price, Median Under Contract and Median Sold Prices:
The Downingtown Median For Sale Price was up 9% from $339,450 in January 2008 to a Median For Sale Price of $369,900 in January 2009
The Under Contract Median price for Downingtown was down 2% from $274,900 to $269,900 in January 2009.
However the Downingtown Median Sold Price increased 71% from $254,000 in January 2008 to $435,000 in January 2009.
Downingtown Supply and Demand Numbers of Homes Sold, Number of Homes For Sale and Number of Homes Under Contract:
The Supply and demand numbers for the number of homes for sale in Downingtown is down 17% from 464 homes for sale in January 2008 to 387 homes for sale in January 2009.
Number of Homes Under contract in Downingtown also declined 60% from 47 to 19 homes under contract in January of 2009.
The number of homes sold also declined 44% from 27 homes sold in 2008 to 15 homes sold in January 2009.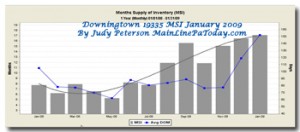 The Months Supply of Inventory is really the cautionary number to watch for the Downingtown Real Estate Market as we move into the Spring Market.
The MSI is up 121% from 7.7 months supply of inventory in Januuary 2008 to 17.1 MSI in January 2009.
Also the Days on Market for Downingtown homes is up 45% from 105 DOM in January 2008 to 152 Days On Market in January 2009.
Buyers Market Indicated by Growing Months Supply of Inventory:
The growing Months of Inventory are indicating a strong buyers market for Downingtown homes for sale. With the number of homes for sale dropping and the number of homes sold declining, the median sold price is not likely to continue rising.
Showing condition and creative marketing will be critical to move the Dowingtown real estate market in the right direction. The median for sale price in Downingtown makes the Downingtown area a good choice for first time home buyers. First time buyers are widely believed to be the segment of the market to lead in recovery.
*All Data courtesy of Trend MLS and Teradatum is deemed accurate but not guaranteed.

Interested in more Downingtown community, neighborhood, home buying information? There are some excellent choices for townhomes, condos and single family homes in Downingtown pa. Or, if you're thinking about selling a home in Downingtown, request my free pre-listing Home Evaluation and walk through. Call me now, 610-889-5509, Judy Peterson, Realtor, GRI, ABR, SRES, Prudential Fox and Roach Realtors, for a consultation and review of your real estate needs. I can help.
Related Articles of Interest:
.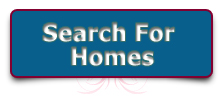 Back To Top