October 5th, 2009 categories: A Realtors Life, Fun Things To Do, Home Buyers, Home Sellers, Lifestyle
Judy Peterson's 15 Must Have iPhone Apps For Real Estate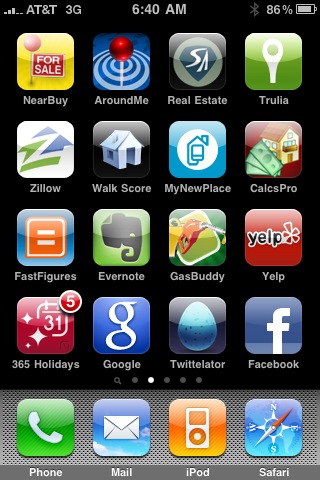 So here I am now 4 months into in-tech love with my iPhone. I keep rewriting this post about how wonderful the iPhone is for Real Estate Agents. And the reason for the constant editing is that it seems that every day I find another great App that comes onto the market that's helpful to Realtors® in the daily practice of real estate.
It's an awesome Christmas morning feeling when I see that little update light go on telling me that there's a new exciting feature for one of my Apps. One of life's simple pleasures!
Now, I have some good friends that I respect. They have brand x phones or hand helds. Are you a Realtor with a brand x phone/hand held?
Give it away.  Or sell it to your friend, sister, brother or neighbor who is not in real estate and get an iPhone. Do I really mean that? I do. Read the rest of this entry »
Spoken by Judy Peterson | Discussion: Comments Off on iPhone 15 Must Have Apps For Real Estate Agents
---
Back To Top