July 26th, 2011 categories: A Realtors Life, Chester County, Fun Things To Do, Home Buyers, Home Sellers
Scrabble and Real Estate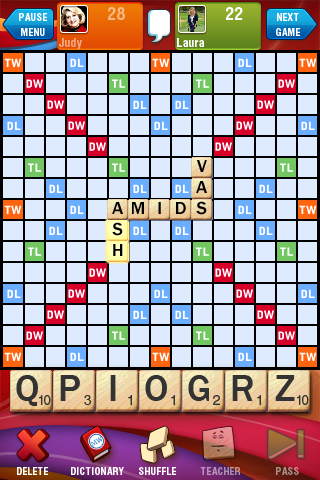 Perhaps you love to play Scrabble AND you have a penchant for the world of real estate like me. As a child I spent many happy Summer days playing marathon games of Monopoly with family and friends. And even today, a few running games of Scrabble on my iPhone helps keep the mental juices flowing. Now I would be the first person to acknowledge that I cringe whenever I hear someone refer to the "game of real estate". Somehow it always makes me think of those sleazy get rich quick guys on late night TV.
We never want to think about buying or selling a home as a game, since it's one of the most important financial and emotional events in our lives. But here are some similarities to both events that might give a little insight by way of comparison:
Spoken by Judy Peterson | Discussion: Comments Off on 3 Ways Real Estate Is Like Scrabble
---
October 5th, 2009 categories: A Realtors Life, Fun Things To Do, Home Buyers, Home Sellers, Lifestyle
Judy Peterson's 15 Must Have iPhone Apps For Real Estate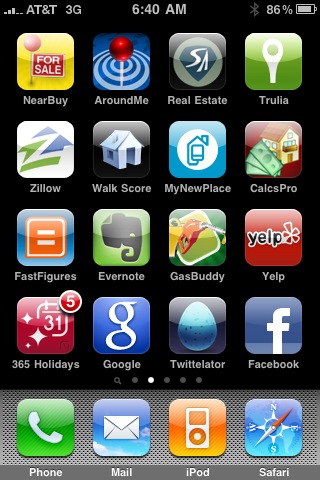 So here I am now 4 months into in-tech love with my iPhone. I keep rewriting this post about how wonderful the iPhone is for Real Estate Agents. And the reason for the constant editing is that it seems that every day I find another great App that comes onto the market that's helpful to Realtors® in the daily practice of real estate.
It's an awesome Christmas morning feeling when I see that little update light go on telling me that there's a new exciting feature for one of my Apps. One of life's simple pleasures!
Now, I have some good friends that I respect. They have brand x phones or hand helds. Are you a Realtor with a brand x phone/hand held?
Give it away.  Or sell it to your friend, sister, brother or neighbor who is not in real estate and get an iPhone. Do I really mean that? I do. Read the rest of this entry »
Spoken by Judy Peterson | Discussion: Comments Off on iPhone 15 Must Have Apps For Real Estate Agents
---
Back To Top