January 8th, 2009 categories: Chester County, Market Trends
Tredyffrin Township Real Estate 4th Quarter Market Report
440 Homes Sold In Tredyffrin Township, Chester County Pa In 2008. Our one year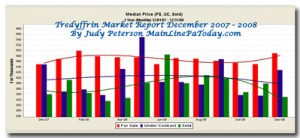 comparison between December 2008 and December 2007 shows that the Median For Sale Price is up 9%, while the Median Sold Price for a home in Tredyffrin Township is down only 3%.*The key for the statistics is Green equals median sold prices, red median for sale prices and blue, median under contract prices.

And while it's a good sign that the residual inventory (back log) is dropping, there's a message in the For Sale Price increase and the Median Sold price Decline. Remember, it's just a short 30 days til the Spring Market and more competition. Read the rest of this entry »
Spoken by Judy Peterson | Discussion: Comments Off on Tredyffrin Chester County Real Estate Report Dec 2008
---
January 5th, 2009 categories: Chester County, Market Trends
Chester County Real Estate Market Report-Dodging The Tsunami
The Chester County Real Estate Market Report* for the end of the 4th Quarter December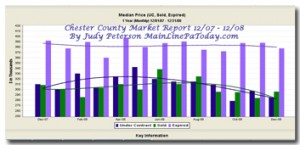 2008 is a picture of a slow real estate market. Still a Buyers Market in Chester County with 16.5 months of inventory, but not a raging Buyers Market. This is a one year comparison between December 2007 and December 2008 unlike my previous two year comparisons.
Over 5,000 homes sold in Chester County last year, despite the pounding litany of negative and often shocking news. The real estate tsunami may have passed by this part of the Philadelphia Suburbs. We're down but we're not out. Yet. Read the rest of this entry »
Spoken by Judy Peterson | Discussion: Comments Off on Chester County Real Estate Market Report
---
Back To Top