June 16th, 2008 categories: Home Sellers
7 Steps to Recovery If Your Sale Falls Through
Fall Through Sales have increased in our current market. There's no more painful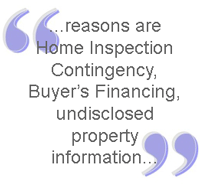 situation for Sellers than the "Fall Through" Sale. Our Trend MLS shows a greater number of Withdrawn Re-listed homes. Good news on the horizon is that Pending Sales are on the rise according to the National Association of Realtors®, who have predicted an improvement in the second half of 2008.
Imagine this scenario – Sellers need to sell. Maybe it's a relocation with a job and new community on the other side. Maybe it's a family who needs to downsize and move closer to the children. The Sellers were happy with their negotiated offer and happy not have to show the property any more. They're ready to move on. Read the rest of this entry »
Spoken by Judy Peterson | Discussion: Comments Off on Home Sellers Singing The Fall Through Blues?
---
Back To Top