January 14th, 2009 categories: Financial, Home Buyers, Home Sellers
Home Improvement Chester County Philadelphia Main Line Area
The phrase that "All Real Estate Is Local" contains a lot of truth in Real Estate and especially for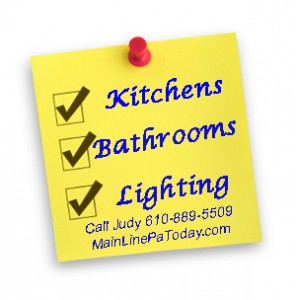 our Pennsylvania, Chester County Real Estate and Philadelphia Main Line area. We have a varied mix of home styles and home price ranges sometimes within neighborhoods.
Each year Realtor Magazine together with Remodeling Magazine* publishes their Cost vs Value edition with statistics on resale value investment return. These are Regional differences but It's also true that Chester County may differ from Delaware or Montgomery County or style differences between Single Family Homes or Town Homes.
Good Lighting Deserves More Home Improvement Attention
My clients seem to be most impressed with Kitchens and Bathrooms and often comment on Lighting. Lighting isn't on the list but in my experience it should be. When a home buyer says, "It seems dark in here", it's not good news for the Sellers home I'm showing. Especially here in the Northeast. Good lighting can punch up the WOW factor for a modest investment!
Spoken by Judy Peterson | Discussion: Comments Off on Home Improvement Investment Return
---
January 10th, 2009 categories: A Realtors Life, Home Sellers, Market Trends
Home Sellers Ask "Paint The Town Red or Broker Beige?"
The Spring Real Estate Market for
Chester County and the Philadelphia Main Line Pennsylvania area is just around the corner.
Maybe we did paint the town red for New Years Eve. But that's yesterday's news. Time to move on and put 2008 behind us. I love color for the home I live in, but for the property you're selling-not so much!
Aren't These Yummy Colors? Don't even think about it! Think neutral. Think Broker Beige.
Try some of the fun interactive tools like Lowe's Home Improvement for ideas and my free 10% Discount Gift Coupon below. There are many exciting neutral colors to choose from.  When you're getting ready to list your home for sale, the Read the rest of this entry »
Spoken by Judy Peterson | Discussion: Comments Off on 10 Reasons Why Home Buyers Love Broker Beige
---
Back To Top