March 28th, 2009 categories: Delaware County, Financial, Home Sellers, Market Trends, Montgomery County
Radnor Township Real Estate, Haverford, Lower Merion and Upper Merion Townships Real Estate Absorption Report February 2009
The Main Line Pa Real Estate Absorption Rate Report comparison February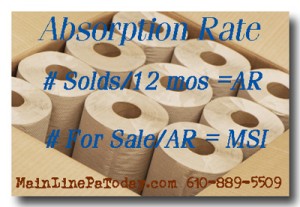 2008 to February 2009. Comparing  our four Lower Main Line Pa area Townships (Radnor, Haverford, Lower Merion and Upper Merion) for the Months Supply of Inventory, Days On Market, Residual Inventory (backlog) and New Listings On Market.
As I was preparing this Absorption Rate Report, I saw a tick up in the Median Listing price for some lower Main Line Pa Townships.
This would not be a good time to be increasing the Listing prices beyond what's indicated by recent comparable sold prices and market conditions. Read the rest of this entry »
Spoken by Judy Peterson | Discussion: Comments Off on Main Line Pa Homes For Sale Absorption Rate Report
---
September 14th, 2008 categories: Chester County, Home Sellers
Real Estate Home Marketing Plan ~ Blue Print For Success
Does Every House For Sale Need A Real Estate Marketing Plan?
Yes. Every house for sale needs a Real Estate Home Marketing Plan.  A Realtors® Home
Marketing Plan is like a home building blue print – a plan for success. Your blue print for success should include extensive internet marketing with lots of photos. The National Association of Realtors®, NAR has found that more than 80% of today's Internet savvy buyers begin their home search online. Statistics have shown that properties with photos get the most viewings. The evidence is clear, Buyers want to see property photos.
As a Pennsylvania Realtor® for more than 16 years, I know that every property needs to have a Real Estate Home Marketing Plan, custom designed to take into consideration the unique needs of the Sellers and of the Sellers unique property features. Every Seller deserves to have their property showcased to it's best advantage.
A Marketing Plan establishes the blue print for accomplishing the Sellers objective to sell their property for the highest price in the least amount of time to the best qualified buyer who will go to settlement as promised.
In Real Estate, A Picture is worth many $1,000.00's of Dollars –
It's still true that a "picture is worth a thousand words".  But, in today's real estate market, especially, Read the rest of this entry »
Spoken by Judy Peterson | Discussion: Comments Off on 15 Step Real Estate Agent's Home Marketing Plan
---
Back To Top