January 7th, 2009 Categories: Delaware County, Market Trends
Delaware County Real Estate Market Report December 2008*
Our one year comparison of December 2007 and December 2008 for the Real Estate Market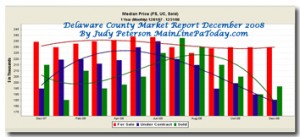 in Delaware County Pennsylvania shows that there were 5,456 homes sold in Delaware County this past year with a 2% decline in the Median Sold Price.
The key to our real estate statistics chart is red bar equals median home for sale prices in Delaware County, blue bar is median homes under contract prices and the green bar is median homes sold prices for the past year in Delaware County PA.
Delaware County Median Price -Homes For Sale, Under Contract, Sold and Expired:
Median Homes For Sale Prices were down 2% from $234,500 in 2007 to $229,900 in December 2008
Homes Under Contract Home Sale Prices were down 5% from $194,900 to $185,400 in December 2008.
Homes Sold Prices were down 8% from $215,000 in December 2007 to $196,750 in December of 2008
Expired Listing Prices were down 16% from $249,900 to $211,000 in 2008
Delaware County Supply and Demand Number of Homes Sold: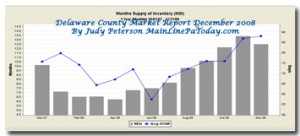 Number of Homes For Sale remains fairly level between December 2007 3,966 and December 2008 3,947
Number of Homes Under Contract was down 18% from 309 homes under contract in December 2007 to 254 homes under contract December 2008
Number of Homes Sold was down 21% from 417 in December of 2007 to 330 in December of 2008
Delaware County Months Supply of Inventory and Absorption Rates:
Months Supply of Inventory is up 73% in Delaware County from 10.1 months to 12.5 Months. The Gray Bars on my statistics chart represent the Months Supply of Inventory and the blue line represents the growing Days On Market in Delaware County Pa.
Days On Market is up 15% from 76 DOM to 88 DOM
*data courtesy of Trend MLS and Terradatum is deem accurate but not guaranteed.

Call or email Judy Peterson, Realtor Prudential Fox and Roach Realtors Devon Home Marketing Center 610-889-5509 direct. Have a real estate question? Want to know what your neighbors home sold for? Looking for great real estate homes value and marketing ideas to increase your "sold success"? Call now!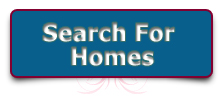 Back To Top