June 9th, 2008 categories: A Realtors Life, Chester County, Fun Things To Do, Lifestyle
Wilson Farm Park In Tredyffrin Township -Free Summer 2008 Concert Series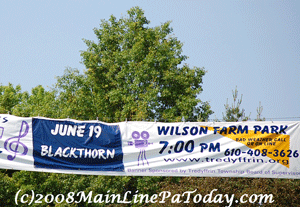 Beginning Thursday, June 19th from 7pm to 9pm, the Summer in the Park Concert Series is the place to be in Tredyffrin Township. The series opens with Blackthorn, the popular Irish Rock Band. All of the concerts in the series will be held at the Shire Pavilion.
Blackthorn performs throughout the area and they have been a popular draw for previous concerts in the Park.
The Wilson Farm Park Summer Concert Series offers a rousing Summer evening treat for good family fun with friends and neighbors. Read the rest of this entry »
Spoken by Judy Peterson | Discussion: Comments Off on Blackthorn Performs At Wilson Farm Park In Tredyffrin
---
June 4th, 2008 categories: Chester County
Bus Routes in Tredyffrin Township
Will First Time Buyer's Necessity Meet The Mother of Invention?
We're very fortunate on the Philadelphia Main Line and Tredyffrin Township when it comes to transportation. At least, that's what we tell ourselves. After all, don't we have the fabulous convenience of the R5 Train Paoli/Thorndale to Philadelphia? But how many train stations can you actually walk to and from? You know, just in case you wanted to go "green" and leave the gas guzzler home?
Where can you really go in Tredyffrin Township if your car's in for service? Or if you don't have a car at all? Or Gas prices get even more crazed than they already are? Read the rest of this entry »
Spoken by Judy Peterson | Discussion: Comments Off on Tredyffrin Township – Planes ~ Trains ~ Buses
---
Back To Top