January 5th, 2009 categories: Chester County, Market Trends
Chester County Real Estate Market Report-Dodging The Tsunami
The Chester County Real Estate Market Report* for the end of the 4th Quarter December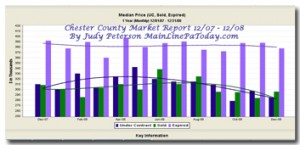 2008 is a picture of a slow real estate market. Still a Buyers Market in Chester County with 16.5 months of inventory, but not a raging Buyers Market. This is a one year comparison between December 2007 and December 2008 unlike my previous two year comparisons.
Over 5,000 homes sold in Chester County last year, despite the pounding litany of negative and often shocking news. The real estate tsunami may have passed by this part of the Philadelphia Suburbs. We're down but we're not out. Yet. Read the rest of this entry »
Spoken by Judy Peterson | Discussion: No Comments »
---
January 2nd, 2009 categories: A Realtors Life, First Time Home Buyers
What should I ask for in my offer to buy a house?
It's a simple question. Deceptively simple. But almost always asked by First Time Home Buyers here in Chester County, Delaware County and Montgomery County.
And truth be known, there's many a tale to tell. Some not very pretty and some could be a sitcom. But here's the, " What should I ask for?" Inclusion Exclusion basics:
Negotiating For Your First Home
My answer often begins with, "It depends" followed by more questions:
how strong is the home Buyer's offer?
price
terms
financing contingencies
There's an old saying in real estate when you're negotiating. You either get the "price" or you get the "terms". Not usually both. But sometimes you can get both. So what are inclusions and exclusions. How does negotiating work? Read the rest of this entry »
Spoken by Judy Peterson | Discussion: No Comments »
---
Back To Top