August 1st, 2011 categories: Chester County, Chesterbrook, Delaware County, Home Sellers, Montgomery County, Real Estate Photography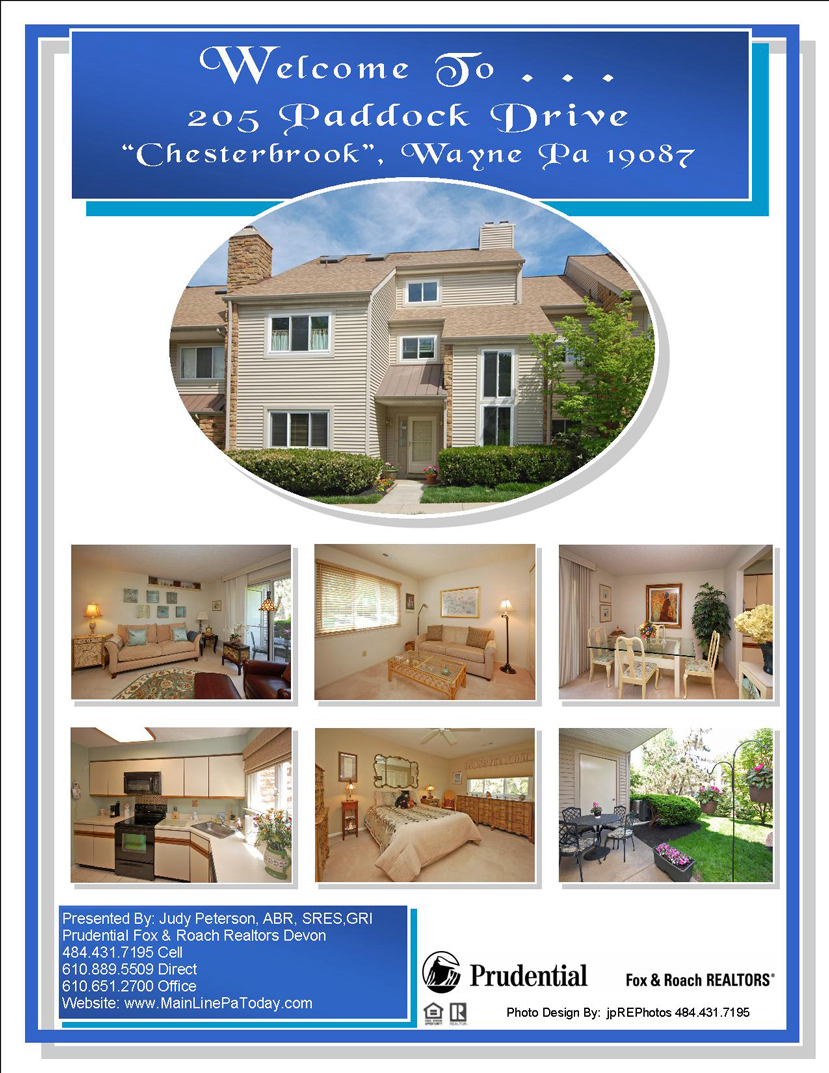 Hello Digital Photography Goodby MLS Books. Get Over It!
The Real Estate Listing Photograph was a very lonely creature when I first began my Real Estate Career. There was only one black and white real estate photograph that lived in the MLS Books. The MLS Books were about the size of the Yellow Pages Telephone Directory.
Today our Trend MLS and other search portals can feature up to 25 color property photos. This is a brochure showing photos of a pending sale in Chesterbrook that drew numerous showings, open house visitors and offers to purchase.
Spoken by Judy Peterson | Discussion: Comments Off on Photography For Real Estate Listings
---
August 24th, 2009 categories: Chester County, Financial, Market Trends
Chester County Real Estate Market Activity-July 31, 2009*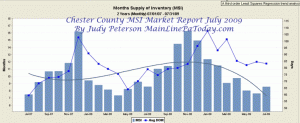 Our July 2009 Real Estate Market Statistical Report compares the Chester County Real Estate Market Activity for July 2007 to July 2009 for Chester County Homes Sold, Chester County Homes For Sale, Median Sold, Chester County Median For Sale and Median Under Contract Real Estate Pricing.
The National Association of Realtors® reports in the NAR National Existing Home Sales Report, that for the first time in 5 years, existing home sales have increased 4 months in a row as of 8/21/09.  I'm looking forward to the Market Reports for August since my intuitive impression is that the Real Estate Market in our area is alive and kickin' again. I'm hearing more and more properties selling in record time and some even with multiple offers, especially when "priced right" and in awesome condition!
The Market Dynamics show that all Median Price indicators are down for this period: Median Sold Prices Down 2% from $310,500 to $305,000 In July 2009, Chester County Homes For Sale down 3% from $374,950 to $365,000 and Chester County Homes Under Contract down 15% from $335,000 to $285,000 in July 2009.
It's interesting to note that Median Prices were up slightly in June of 2009, but not maintained for July 2009 Read the rest of this entry »
Spoken by Judy Peterson | Discussion: Comments Off on Chester County Real Estate July Market Report
---
June 23rd, 2008 categories: A Realtors Life
G

o

o

g

l

e

For President?
Hip Hip Hooray! Main Line Pa Today|Chester County Real Estate and I are official Tomato Graduates of the prestigious Real Estate Tomato School of Blogging.
Thanks To The Real Estate Tomato Blogging Master and Guru, Jim Cronin together with a long list of Tomato Team Elves, all named "Molly", each of who magically produces answers to my questions. Team members Chris Daley, Justin Smith, and Chris Hotz have guided me through the blogging maze with enthusiasm and declared me reasonably prepared to find my way through.
Google is where I often go for more information. Want to see what your name looks like in Google speak?  Play with this fun imitation Google font or get the real deal, called "catull" font for too much money. Read the rest of this entry »
Spoken by Judy Peterson | Discussion: Comments Off on Main Line Pa Chester County Real Estate|Google For President
---
Back To Top