March 25th, 2009 categories: Chester County, Financial, Market Trends
Real Estate Absorption Tredyffrin Township, Easttown, Willistown, Uwchlan and Upper Uwchlan Townships*
The Real Estate Market Absorption Rate, Months Supply of Inventory and
Days On Market are key indicators that provides historical data about where we've been but more importantly also tells us something about future house values, for the short term anyway. For some Chester County Main Line Pa news that you can use, try Calculating the Absorption Rate. Or contact me and I'll prepare a Comparative Market Analysis for your homes value price range, neighborhood and community.
The Table below shows a comparison between February 2008/2009  of 5 of our Read the rest of this entry »
Spoken by Judy Peterson | Discussion: Comments Off on Absorbing Chester County Homes For Sale
---
June 13th, 2008 categories: Financial, Market Trends
How Do I Calculate The Absorption Rate and The Months Supply of Inventory?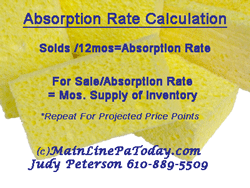 The Absorption Rate has historically been used in New Construction planning and financing.  Builders need to know how many homes can be absorbed into any given market before the first shovel goes in the ground. Lead time, financing and market shifts are unforgiving when you plan and build in a Sellers Market, but sell in a Buyers Market, such as we have now. However unscientific, a savvy Realtor can almost predict a market downturn or recovery by watching the incentive giveaways. How do we define a Buyers Market? It's generally considered to be anything over about six months of inventory.
Absorption Rate and Months Supply of Inventory can help Sellers and Buyers understand the market. A Realtor who doesn't use these indicators is like a violinist without a bow or a mechanic without a socket wrench ~ you might not hear the music or know how to fix it when the market shifts. These simple calculations can produce some elegant results: Read the rest of this entry »
Spoken by Judy Peterson | Discussion: Comments Off on Absorption Rate~Months Supply of Inventory Tools
---
June 12th, 2008 categories: Chester County, Market Trends
Market Trends May 2008 ~ Months Supply of Inventory*
The Months Supply of Inventory (MSI), Tredyffrin Township, comparison from May 2006 to May 2008 shows a drop in the number of days on the market beginning in January 2008 and an overall MSI of 7.5 Months. This is a significant increase over May of 2007 at 3.0 months. However, May of 2007 was very low and as we now know, not sustainable. If you take a look at the Average Days On The market for sold properties in the period, you can see that while there are many choices for Buyers, homes that are well priced, in good condition and desirable locations are selling in a reasonable number of days.
Buyers Market? Sellers Market? ~
The Months Supply of Inventory is calculated by first determining the Absorption Rate. These two indicators are used to determine the answer to the Buyers Market-Sellers Market question. This is a picture of a Moderate Buyers Market where there are good opportunities for qualified Buyers and for Sellers.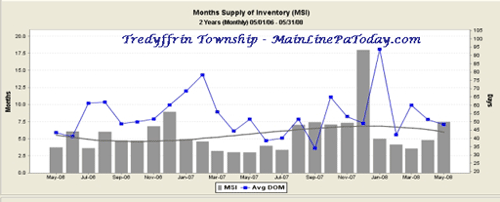 *Data courtesy of Trend MLS and Terradatum is deemed accurate but not guaranteed. Read the rest of this entry »
Spoken by Judy Peterson | Discussion: Comments Off on Homes For Sale Tredyffrin – Months Supply of Inventory
---
Back To Top