August 1st, 2011 categories: Chester County, Chesterbrook, Delaware County, Home Sellers, Montgomery County, Real Estate Photography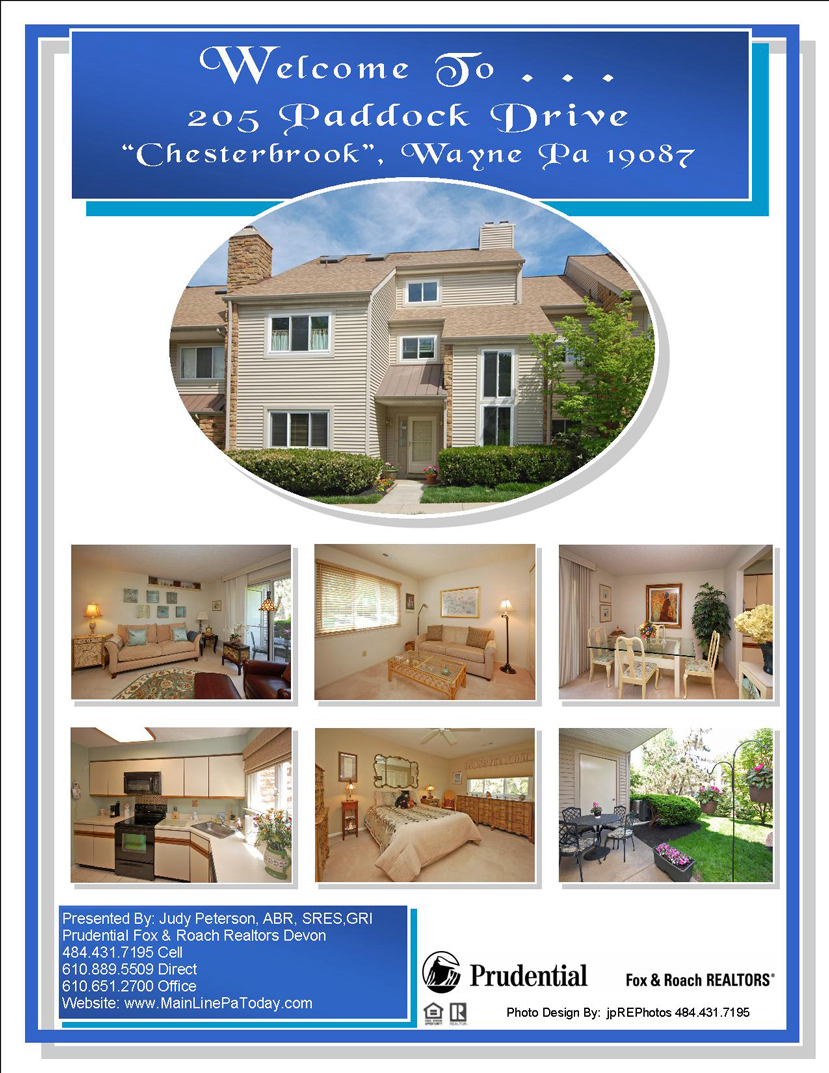 Hello Digital Photography Goodby MLS Books. Get Over It!
The Real Estate Listing Photograph was a very lonely creature when I first began my Real Estate Career. There was only one black and white real estate photograph that lived in the MLS Books. The MLS Books were about the size of the Yellow Pages Telephone Directory.
Today our Trend MLS and other search portals can feature up to 25 color property photos. This is a brochure showing photos of a pending sale in Chesterbrook that drew numerous showings, open house visitors and offers to purchase.
Spoken by Judy Peterson | Discussion: Comments Off on Photography For Real Estate Listings
---
January 18th, 2009 categories: Chester County, Chesterbrook, Home Buyers, Market Trends
Chesterbrook Real Estate Condo,Town Homes,Sold In Tredyffrin
A First Time Home Buyer called me about a recent Chesterbrook Sale.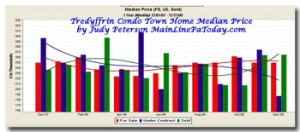 She asked me about the Chesterbrook Condo and Town Homes real estate market in Tredyffrin Township.
We sat down together to take a close look at the Chesterbrook Real Estate Market and the Tredyffrin Township real estate market for condos and town homes. The Median Prices Chart shows homes for sale and homes that have sold in Chesterbrook and in Tredyffrin Township.  I plan to provide more Homes Sold Information to help home buyers and home sellers see that the level of market activity is greater here in Tredyffrin compared to news reports. Read the rest of this entry »
Spoken by Judy Peterson | Discussion: Comments Off on Chester County Real Estate Chesterbrook Homes
---
July 10th, 2008 categories: Chester County, Market Trends
Tredyffrin Township Pa Town Home-Condominium ~ 2nd Quarter Market Report*
It's interesting to take a closer look at the Chester County, Tredyffrin TownshipTown Home and Condominium real estate market. Some of the Town Home Communities in Tredyffrin Township are Chesterbrook, Arbordeau, Old Forge Crossing, Daylesford Lake, Paoli Point, Woodgate and Paoli Woods.  Each Community has unique features and price points but they all share a great school system, convenient location and easy commuting. The Town Home and Condominium market is primarily a First Time Buyer and a Downsizing niche market.
The Average Sold Price for Town Homes and Condos in Tredyffrin peaked in August of 2007 at $325,778, creating a 9% drop in the average sold price between August of 2007 and June of June 2008 at $296,331.
The Median Sold Price peaked in August of 2007 at $346,000 and June of 2008 at $264,000, representing a 23.7% decline.
The following chart illustrates the Absorption Rate for Town Homes and Condos in Tredyffrin as of the 2nd Quarter of 2008 providing a very graphic picture of the effect of the residual inventory in considering the Absorption Rate. The residual inventory plays such Read the rest of this entry »
Spoken by Judy Peterson | Discussion: Comments Off on Tredyffrin Township~Town Home Condo 2nd Quarter Market Report
---
Back To Top