July 29th, 2011 categories: Chester County, Chesterbrook, Financial, Market Trends
Good To Be A Tredyffrin Townhouse Buyer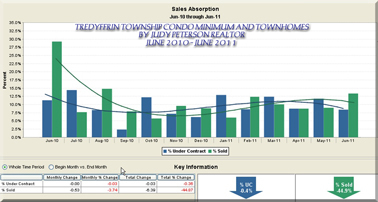 If you are a Townhouse or a Condo Buyer or Seller in Tredyffrin Township you will have seen the most real estate activity in all of Chester County Pa in the past 12 months. There were 354 units sold in Tredyffrin, followed by 195 sold in Phoenixville, 188 in East Goshen Township and 186 in West Goshen Township. Inventory is moving, however Sold prices for townhouses and condos are down 4% since June of 2010.* Read the rest of this entry »
Spoken by Judy Peterson | Discussion: Comments Off on Tredyffrin Township Condos And Townhomes
---
August 25th, 2008 categories: A Realtors Life, Home Buyers, Home Sellers
Days On Market (DOM)-The "Property Marketing Period" (PMP) ~ A Realtors® Tale of Two Hats!
How long has this house been on the market?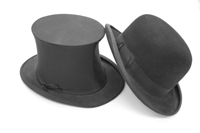 The answer to this question now has two parts, the DOM and the "PMP" "Property Marketing Period". As a Realtor®, I often wear two hats. I wear a Sellers Agent Hat and a Buyers Agent Hat for my Main Line Chester County clients.  Meaning I represent Sellers in Listing their property or I represent Buyers in purchasing, as an Accredited Buyers Agent.  Buyers and Sellers generally look at the question of Days On The Market differently.
Our Multiple Listing Service for the Tri-County Delaware Valley area has instituted a new Property Marketing Period (PMP) in order to show the true Days On The Market. Read the rest of this entry »
Spoken by Judy Peterson | Discussion: Comments Off on Judy Peterson-How Long Has This House Been On The Market?
---
July 7th, 2008 categories: Delaware County, Market Trends
Radnor Township, Delaware County Real Estate – 2nd Quarter 2008 Market Report*
Real Estate Median Sold Price indicators for Radnor Township shows a drop in the Real Estate Median Sold Price between June of 2006 and June of 2008 of (3.28%).  The peak Median Sold Price for Radnor Township occurred May 2007 at $865,000. The comparison between May 2007 peak and June of 2008 shows a Median Sold price decline of (29.48%).  Higher Months Supply of Inventory and Average Days on Market, may, in part be attributed to more high end new construction inventory in Radnor Township. The following chart illustrates the Months Supply of Inventory and Read the rest of this entry »
Spoken by Judy Peterson | Discussion: Comments Off on Radnor Township Real Estate Market-2nd Quarter 2008
---
Back To Top