February 3rd, 2009 categories: Chester County, Chesterbrook, Market Trends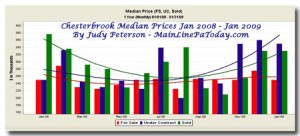 Many Chesterbrook Townhomes  and Condos  Sold in 2008 Tredyffrin, Chester County Pa in the past year.
Have you heard anyone say about Real Estate that, "nothing's selling"? Well that's a common myth these days. Throughout Chester County, and Tredyffrin Township, the perception has been that selling a home in this market is all but impossible. But the truth is that there were actually 98 Townhomes and Condos that sold in Chesterbrook between January 2008 and January 2009.*
And there were another 6 townhomes and condos that settled in January 2009.
8 Chesterbrook Townhomes sold in just this past December 2008. The townhome and condo market seems to be picking up. The average days on the market was 47 Days. In part, townhomes and condos are the perfect home choice for first time buyers and downsizing buyers.
The Community of Chesterbrook offers a lifestyle with great appeal to both first time buyers and downsizing buyers. Read the rest of this entry »
Spoken by Judy Peterson | Discussion: Comments Off on Chesterbrook Townhomes Sold-2008 Market Report
---
Back To Top