May 21st, 2008 categories: A Realtors Life
How Western Digital Saved My Real Estate Life!|Have Gigs Will Travel
I hear tell that there was a time in the life of a Realtor® when all that was needed was an MLS Book, a car, a pen and a contract to sell a property! Not Today. The Tech Savvy Realtor® of today needs Gigs and lots of 'em!
I just invested in a new Camera, a Nikon D40 SLR. It doesn't cost as much as a house, but neither is it disposable. I try to stay cutting edge in my tech investments and avoid the"bleeding edge".
The Nikon D40 takes great pictures right out of the box, but I like to play. My original digital camera was one of the first of Kodak DC4800's which is an excellent camera for wide angle shots in real estate. Simple but good. Sometimes you can still find it on eBay.
However, the Nikon D40 is an SLR Digital. It came with an 18mm to 55mm lens. I added a 55mm to 200mm lens, so the possibilities are endless – as soon as I learn them all. One that I should have learned was to reset the size of the photos I took, unless they were going to be posters, so they wouldn't fill up my hard drive. Hopefully, both cameras will help to keep my listing photos off of the amusing Worst MLS Picture list. Read the rest of this entry »
Spoken by Judy Peterson | Discussion: Comments Off on Realtor Tech Happiness Equals 320 Gigs
---
April 25th, 2008 categories: Home Buyers, Home Sellers
What's the difference between an Apple and a Twinkie Or a Realtor® and a Salesperson?
One's good for you, the other – not so much!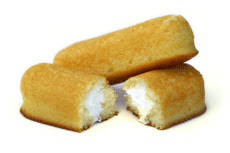 Not every Real Estate Agent is a Realtor®. Did you know that?
In Real Estate the difference between a Realtor® and a Salesperson is like the difference between an Apple and a Twinkie.
You don't feel so good. You have a pain. You go to the Real Estate Doctor. You tell him that you want to sell and buy a house.

"What did you have for breakfast?", he asks. You say, a Twinkie. "For Lunch", he asks? You say, a Twinkie. "And Dinner?" You say, a Twinkie.

"Go home, take two aspirin and call a Realtor® in the morning", is your real estate doctor's advice.
The Realtor® Straight Scoop!
Ok, so that's a little fanciful. But, here's the straight scoop. Every salesperson is not a Realtor® with the trademark signifying that they are a member of The National Association of Realtors®. The major difference between a salesperson and a Realtor® is that a Realtor has taken an oath to subscribe to a stringent and enforceable Code of Ethics with Standards of Practice that promote fair, honest and ethical treatment of all parties in a transaction. Non-member licensees have taken no such oath, and are not morally bound by the ethical practices and principles set forth in the Realtors® Code of Ethics.
In short, you get what you pay for. It could be that what you get is limited services, a smorgasbord menu to pick from, nobody minding the store, old style "caveat emptor", buyer beware real estate.
"Act in haste, or regret at leisure", was part of my Grandmother's wisdom. Take the time to do your homework. Ask the right questions before entering the real estate marketplace. Questions like, are you a Realtor? A member of the National Association of Reators®?
Any good Realtor® will be thrilled that you are an informed consumer showing that you know the difference between a salesperson and a Realtor…mmm…. probably best not to ask if they're an apple or a Twinkie, though!
As your Realtor®, there are easily over 200 important services I and my Broker, Prudential Fox and Roach Realtors perform for my Clients at our Devon Home Marketing Center Corporate Headquarters. Selling faster and for more money? I can make it happen!
Now that's a difference you can take to the bank.
Related Articles:
Spoken by Judy Peterson | Discussion: Comments Off on Apple or Twinkie?-Realtor® or Salesperson?
---
Back To Top